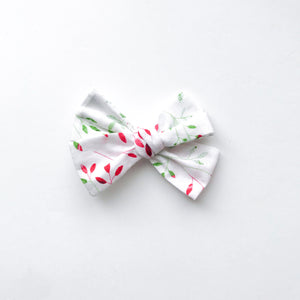 Stella Bow - Christmas Eve // Clips
$304

$3.04

Save $2.36
Tax included.
---
---
Our Stella Bows are the cutest hair accessory for your little one, whether they have just arrived Earth side or have already started growing out their gorgeous hair ♡ 

The cutest little bow on a silver alligator clip to complete bub's outfit. Clip it to the base of their little sprout of hair (or piggy tail sprouts!), or use it to keep that long fringe out of their eyes!

♡ Available as Single clips (Left or Right - select based on the side bub's hair is usually pinned up), or Pigtail Sets (set of two).

♡ Gift them or keep them - or both! (Twinning is the cutest!)
♡ This beautiful bow has been made as part of our first Christmas Collection. It can be worn on any given day, with any outfit, for any occasion - not just Christmas!

#babygift #toddlergift #birthdaygift #babysprouthair #babyhairclips #pigtails #babybowoftheday #babyoutfit 
  
※ Never leave babies or children unsupervised with these items